News
Call for Contributions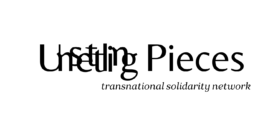 Unsettling Pieces is a transnational solidarity network that aims to make the political voices in the Netherlands louder. The platform's motivation is to contribute to the ongoing political discussions by creating a transnational solidarity network. It hosts artworks (graphic designs, photographs, poems, personal thus political essays) and academic or semi-academic articles. The most important pillar of the platform is that it drives away from the neoliberal world order and highlights the importance of relationality by excluding identity politics. 
Transnational solidarity being the platform's core value, the aim is to construct the platform as diverse, vivid and collective as possible where we learn from and with each other. In order to co-create the platform, we want to invite students, academics, artists and activists to contribute with unsettling pieces. These pieces can be in various forms from photography to poetry, from semi-academic pieces to video essays. 
Please send your piece to unsettlingpieces@outlook.com before the 14th of October including a short biography of yourself (3-4 sentences).